How I Found My Remarkable Canine Partner
I've had many adventures in communicating with animals throughout my life. Some of the most exciting adventures have been when I am moved to adopt a new animal companion. These times are filled with compelling spiritual guidance, evolving communication with the new animal friends even before they arrive, mystical signs, revelation of mutual purpose and support, and pure delight.

I am celebrating the arrival on January 22, 2004 of my dear Belinda - one of the most special canine companions of my life. I wrote about Belinda's arrival in the spring issue of
Species Link - The Journal of Interspecies Telepathic Communication.
(I founded S
pecies Link
in 1990 and published and edited it for twenty-two years.)

Here is the story (with a few additional tidbits) I wrote for the spring 2004 issue in the section:
News from the Floating Island of Peace
(my former home in Inverness/Point Reyes, California)



My new canine partner arrived January 22. My days of keeping up with the running and need for adventure of Afghan hounds, my canine companions for decades, have passed. During my teaching travels in the past few years, a number of masterful little dogs from purebreds to muttlets have shown me the charm and relative ease of pocket dogs. Small dogs have also appeared in a number of dreams, eliciting inclusion in my waking life.

Buddha Boy, my male Afghan, reached eleven on February 14. He had a painful, deeply infected toe that did not respond to treatment and had to be removed January 9. During his recovery, it suddenly seemed right to have another dog in our family, for the first time since our beloved female Afghan, Reya, died two years ago.

Finding no small dogs for adoption at the local Humane Society, I searched the web for "small dog rescue" and found an organization dedicated to that purpose in San Rafael, just 45 minutes away. Only one dog was up for adoption at the time. Her photo had been placed on the website just the day before. I was mesmerized when I saw the picture of her sweet face and read her description.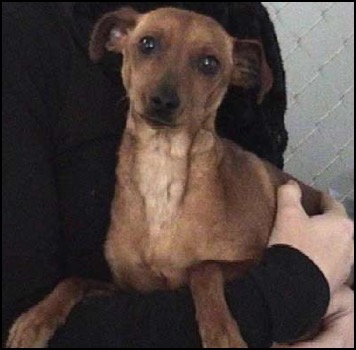 Michellina is a female miniature greyhound mix, who is 1 year old and weighs 12 lbs. She was skin and bones when she arrived in August from Mexico City. The travel and being a stray caused her to get sick and she has now completely recovered from pneumonia and mange. She is healthy and energetic and loves toys. She needs daily exercise and is sweet, cuddly, playful, and friendly to all she meets. She is good with other dogs who are also playful and good with kids. She enjoys lots of activity, so she needs to be in a home where people are in and out throughout the day.



As advised, I filled out an online application and then called to say I was interested. When the woman in charge didn't call back for a few days, I figured that someone else had adopted her.

Although her name was listed as Michellina, as I was meditating I got that her name would be Belinda and realized that the word contained both "bella" for beautiful and "linda" for pretty. I felt she was a beautiful soul, full of love and joy and very pretty and feminine.

An hour after getting her name, the rescue organizer called me to talk about adopting Belinda. When I went to see Belinda the next day, we already knew each other and were in love. The rescue people were amazed by how quickly she bonded with me, as she sat on the couch and leaned into my chest.

I had no doubt from first seeing her photo that she was the right dog for me, the dog of my dreams. I had connected to her and we felt each other's love, all while I surrendered to whatever was in the highest good for everyone. Belinda went home with me that day.


You Light Up My Life

Belinda's coat is a rich russet color. She runs like a tiny greyhound, full of zest (she is part Italian Greyhound - a sighthound and link to my Afghan hound connection). Observant and bright, she is delighted to meet everyone of any species. She's the first dog I have had who I can exercise in the house. I watch fascinated as she leaps down the hall after a ball or toy.

Buddha Boy and she get along very well. He lights up at her exuberant presence. His giant size dwarfs her tiny frame and she sometimes walks underneath instead of around him. Our cats have accepted her after declaring feline boundaries.

I'm so happy to have this great source of love and joy in my life. Everyone who meets Belinda, affectionately known as "Peepsie," adores this sweet being, She has quickly gathered a fan club of people who love to hold her, sit on the living room rug and watch her play with her toys, or share stories about her. She will open the hearts of many people in her life.

A month after Peepsie arrived, a friend told me about three one-year-old bantam hens who needed a better home than their overcrowded coop. It is so wonderful to have the presence of bright and beautiful chickens again, since Spinky, my last bantam hen, died last May.

Belinda races excitedly around the outside of the chicken run. I am getting her used to the idea of a role as chicken friend and guardian, and each day she is a little bit calmer around them.

What a wonderful portent of spring it is to have these new young family members!

I have just been invited to teach in Belinda's birthplace, Mexico City. I am moved by the dedicated people who rescue, rehabilitate, and find homes for dogs like my dear Belinda. I look forward to contributing my part to increase respect, communication and care for all life. Also teaching in Brazil this May, I am honored to have the opportunity to reach more people in Latin America.

May all beings be happy. May all be loved and cared for – men, women, children, animals, plants, rivers… and all the Earth. Let it be so.



Here is a
program for developing your telepathic communication
with your animal friends. May it increase your joy in living and the well-being of all species.