Coyote Power
Earthfire Institute
Wildlife Sanctuary is a very special place. Over the years, I have communicated with many individuals of various species and taught retreats there.

On a visit in September 2019, I took part in a film highlighting the mission of Earthfire. Part of the film, an interview with Earthfire executive director, Susan Eirich, featured the work I did that day with three recently rescued coyotes with traumatic backgrounds and serious challenges. It was very moving and enlightening to work with them. I describe it all
in this podcast
.

In line with this theme, I received a communication from Coyote (chief or Oversoul) years ago. I was thrilled to find it again and share it with you here.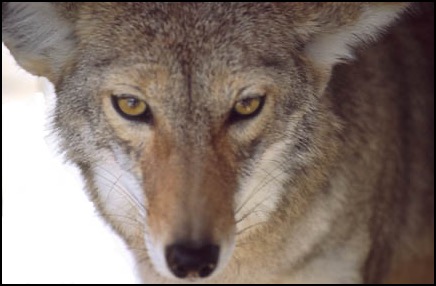 Willow, former Earthfire resident, with whom I had a very close relationship.

Now spirit guardian and still delightful trickster.

I am Coyote power. Trickster you call me.

Yes, I am shifting rapidly, changing my disguise with every glance.

Now you see me staring straight into your soul.

Now you see me leaping lightly on the land, pouncing on the sweet flesh of lizard, being the lizard itself.

Shifting, shape shifting. Being who we are and all that we see.

For we are light perception itself.

We cut through the density of form and pierce the veil of light forms ever changing.

Now I am lizard.
Now I am fox.
Now I am insect.
Now I am tree.
Now I am anything I appear to be.

I am speed of light turned inside out, the future of humankind and all kind.

Able to be whomever and whatever I wish with the twinkling of my coyote eyes.

Yes, the secret of our transformation is in the twinkle.

Can I catch you with my glance?
Can you see beyond the fur?
Can you be coyote and be it all?

Quick. Quick. Quick to be slow, slow, slow.

Moving in the dimensions where time has no meaning.

I am coyote light, bright, shifting, shaping the world.

We are beyond appearance and delight in all forms of the way things are–like a giant masquerade ball.

May I invite you to the dance–laughing yourself inside out?



Don't miss out on the magic of connecting deeply with Coyote and all animals.
Join the dance
.