How I Was Guided to My New Dog Companion
He came presaged by visions, signs, synchronicities, and messages
like many animal companions before him. Guidance mysterious yet clear, laced with wondering and excitement.

A few years ago, while my beloved dog Belinda was still alive, I started to have
visions of my next dog - a small dog with fringes of hair on ears, tail, and down the sides
like a Papillon or Pomeranian mix.

With Belinda's deterioration from kidney failure over her last eighteen months, I was often stretched to the max with lack of sleep and attention to her care. I questioned if I could handle the strain of an elder doggy decline like this when I was more advanced in age.

Perhaps Belinda, the best dog companion I could have asked for, would be my last dog for this life. When I looked at dog photos on the web, the sad thought kept repeating, "but I couldn't take care of them," and I would turn away with a feeling of resigned remoteness.

In my life,
spiritual guidance reigned over mental and emotional cogitations
like this, especially in these important matters. So, I would live each moment and see what transpired.

There was a lot to ponder, release, and integrate after Belinda departed November 1. The arrival of eight new bantam chicks on November 17 added to the brightness of our family and delighted my nurturing nature.

Then, a big blow hit our family when
Jerry, eight-year-old orange tabby, liberated himself from his cat form on December 10
. You may be shocked and sad at this and want to know the details. It's a powerful story with a lifetime of events leading to it, so I will honor my beloved Jerry and give his story the attention it deserves in the next blog.


Signs and Synchronicities

The stream of signs and synchronicities that propelled Belinda's successor into my life began to turn into a rushing river.


When I had a large cat enclosure constructed in October, the builder commented several times that
this enclosure would be great for a small dog
. He knew Belinda was on her last legs, and seemed to be kindly preparing me for the future.

Belinda, at 15 pounds, had the size, sturdiness, and energy to go on hikes, which we loved to do for most of her life. The dog in my visions was a much smaller "pocket" dog, which delighted me.

On
December 8
, I received a prayer request for our ACCAW Animal Communicator prayer webpage for Hercules, a tiny dog with the exact body type of the dog in my vision. Hercules was a long-haired Chihuahua who disappeared when his person took him out in his yard and looked away for a short time.
A striking synchronicity was that this dog was lost on my birthday, October 28.
I felt this was showing me that a future little dog would need to be protected from hawks and other predators in the cat enclosure or attached to me on a leash, never loose in the yard. I didn't know it then, but Hercules was almost
an exact match of my dog-to-be
down to color, hair feathering, and size.

I still did not feel ready to have a new dog in my life. I was going through another emotional tide connected to the loss of Belinda. I had felt giant waves of love at the merging of Belinda and I in our mutual heart cosmos even as I grappled to open to the love that was now inside me from her.

Now the great emotional pain at the agony of her death and the trauma of her long deterioration rose up in force. Although I did all I could to support and comfort her,
I berated myself for not being a perfect caregiver
for vulnerable, weakening Belinda. Sometimes during the night, I would get impatient at her need to be outside a long time to do her belabored dribs and drabs elimination as I stood in the dark chill to watch over her. I wasn't always kind and loving, and I felt guilty about it.

On
December 10
, I called a friend to talk in detail about what was coming up for me, which greatly eased my emotional burden. She then reminded me of all the comforts and love I had provided for Belinda all her life. I laughed and
realized that I had actually been a really good dog mom
and had loved Belinda dearly.
A more balanced perspective cleared my emotional and mental field, and I felt light and happy again.
I forgave myself
for the edgy emotions and thoughts I sometimes had in my sleep-deprived state. Belinda never blamed me for them and even told me that she got angry with me, too, when I sometimes would not come indoors from gardening when she wanted.


She didn't demand of herself or me, the perfection I required of myself. Human mental browbeating - away!
I felt so very grateful for all the love and joy Belinda and I shared and how much she had helped me through very difficult times, as I had helped her. Whew!


I was inching like a caterpillar in fast forward toward the idea that maybe I could have a little dog again.

The Rushing River Day

On the morning of
December 14
, I received a Facebook post from Beth Clifton about her dog:


Here's what our beautiful little rescue dog Teddy from Berkeley California did just moments ago. He's a year old, but very smart and very wise. Teddy came to us in our bedroom and I noticed he kept looking at me then looking forward and up. He then would run out of the room and then immediately come back and he did this same behavior 4 times. I told Merritt that he's trying to tell us something and got up to check. Our little Teddy was alerting us to a fire (smoking, melting 220 wires) in our circuit breakers!! The power company is on their way out here on an emergency. Teddy is our hero rescue dog.

Teddy reminded me so much of Belinda when she came to me at about the same age, not in his body type, although about the same size, but in the
wise, loving sweetness and melting depth in his eyes.
Teddy also had the feathering of hair at his ears and tail of my future dog vision. (I realized in reading this again that Teddy
came from Berkeley, California
, as it turned out my future dog would, also).

In mentioning Teddy to friends,
I felt an opening
and started to wonder where my little dog would come from. I looked at many photos and descriptions of dogs on Arizona Small Dog Rescue websites. Some dogs didn't get along with cats or had to be with another dog for company. Most of all, I didn't feel a connection with any of them.


Synchronicities Abounding

Then
I got a hit to look at the Small Dog Rescue website through which I met Belinda
in California.
There he was.
The only dog up for adoption and posted on
December 10
, my big emotional release day and the day of Jerry's departure. Belinda was also the only dog up for adoption when I looked at the website fifteen years ago and her listing was also recently posted.

The dog was a long-haired Chihuahua called Ember by the rescue group.
He looked almost exactly like the dog on the ACCAW prayer page
who was lost on my birthday. The fringed hair matched the dog in my visions.
I connected immediately and knew he was my new dog.


I contacted Kathy Cangello, head of Small Dog Rescue. We had kept in touch through the years, and she saw all my photos and stories of Belinda on Facebook.

Ember had a rough past. After being dumped from a car and being rescued by a man living in People's Park in Berkeley, California, he then lived with a homeless and drug-addicted woman. She loved him and her two other Chihuahuas, but could not provide adequate warmth, nutrition, veterinary care, and a safe environment. He was estimated by the vet as 5-7 years of age. When I tuned in, I got his birth date as April 26, 2012.

He was recovering from dental extractions, inguinal hernia surgery, and castration at his foster mom's home in San Rafael.
His foster mom, Suzanne, was the very same person who fostered Belinda in the very same home where we first met!


Belinda was also just out of surgery for spaying and removal of a necrotic kidney when I picked her up.
Our bond was immediate and forever. I felt the same connection with Ember.


I talked to Suzanne and she told me about Ember's sweet nature. I felt Ember was not the right name for him and I kept getting "Rusty," which didn't seem to fit him either. I asked him telepathically about the name, Rusty, and he told me that a man who had loved him called him that. I wondered why it had been so hard to find a name for him. His previous people had called him "little man" and Pepito said he didn't identify with names but more with the loving intention of people when they spoke to him. After awhile I got the name
Pepito, a name that suited his soul essence
, which he also liked.

Belinda turned the abuse of her puppyhood on the streets into love and continued to love, understand, and heal people her whole life. Pepito has already given great love and healing to people in his life for six years and can now relax into a life of love without hardship.

Belinda communicated to me from our merged state of being that she was very happy about Pepito. She said he was in our soul group. She was grateful she did not have to split from our oneness to do active duty looking after me in canine form again.
Pepito was right for the job!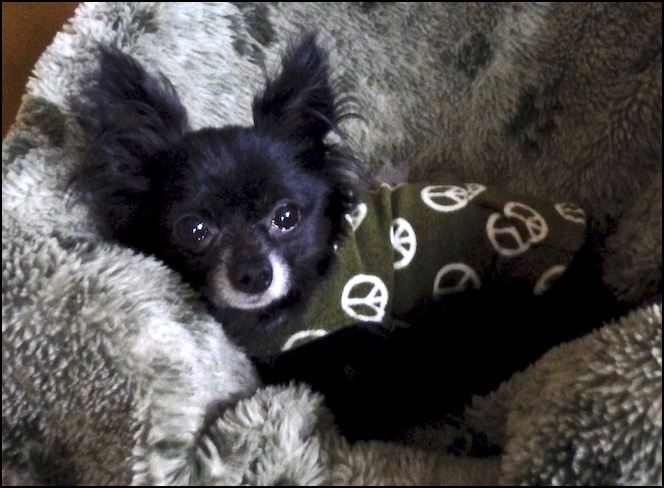 The Big Trip and More Signs

I arranged to drive the 825 miles to pick up Pepito, avoiding getting caught in winter rain or snow or in Christmas traffic through Los Angeles and the San Francisco Bay Area. I interviewed a good person for home critter care of cats and chickens, got my trusty Subaru serviced, and picked the best dates to travel.

Driving 550 miles on December 19, I rested overnight in a motel and left early the next morning, getting into San Rafael before noon on December 20. Suzanne and I took Pepito to the pet store to fit him with a collar, halter, and coat before I took off with my sweet and seasoned car traveler to coastal Inverness to stay at Tomales Bay Resort.

The first night he was with me, he made distressed sounds for a few hours in deep sleep as he ran through and released many times of feeling cold, abandoned, and anxious. He also cleansed a lot of the pain of his recent dental and other surgery. We spent a wonderful day with our friend, Kathy Runnion, on Winter Solstice December 21 and traveled back on December 22.

This writeup shows the powerful energy of those days:


Solstice on the 21st. Full Moon on Dec 22. Cancer Full Moon! This is the time of the lunar calendar when the spotlight is on home, family, and emotional connection. Cancer is the sign of the mother. It's nostalgia and the ache of memory and time. The Cold Moon (what full moon is called this time of year) will appear full for a few days, including on the winter solstice, the first time the two have coincided since 2010. It's an occurrence that won't happen again until 2094. In addition to the full moon, the Ursid meteor shower will take place on Friday and Saturday nights. The meteor shower will peak Dec. 21 and Dec. 22, the first time it has overlapped with the Cold Moon in eight years.


On December 22, I left at 4 AM to avoid Bay Area traffic. I also skirted north of Los Angeles, a slightly longer route traveling east just below Bakersfield that avoided the L.A. Christmas congestion, which L.A. freeway signs had warned about on my way north. I amazed myself when I managed, with taking frequent stretch and rest breaks, to break my record of total driving in one day with 845 miles, arriving home just before 10 PM.

Pepito is doing great in his new home. Each day confirms that our dreams really have come true. Lila (cat) and he were playing with DaBird (cat wand, string, and feathers) within a half hour of his arrival. His confidence has increased enormously in the short time he's been here. What an adventure we are all having together! (See photos on my personal Facebook page.)

To learn how to telepathically communicate with animals and the whole universe, so you can receive the guidance and enjoy the magic of Spirit all around, try immersing yourself in
this program
.